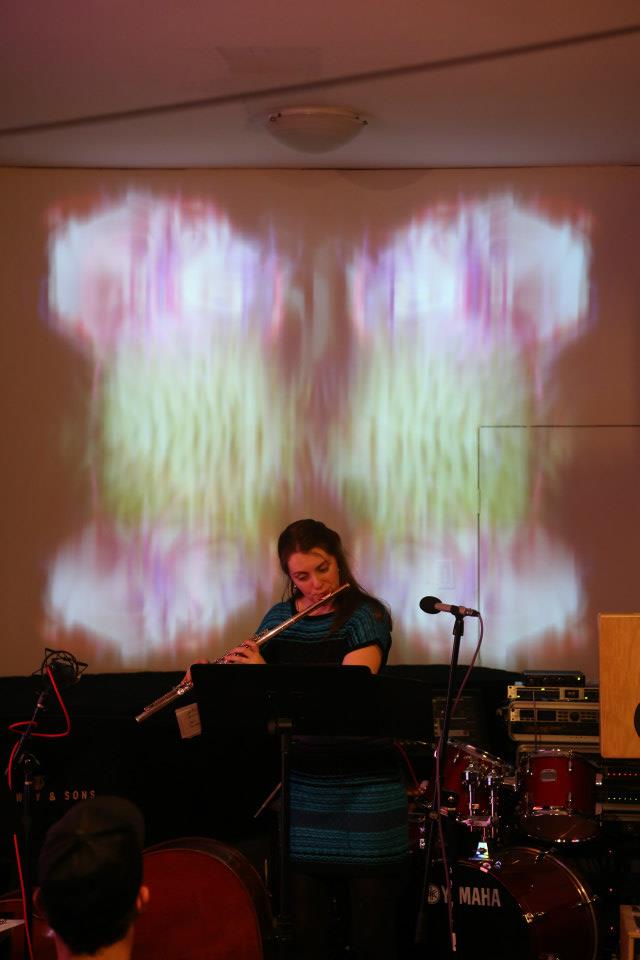 Angélica Negrón started working with Cadillac Moon Ensemble as early as 2010 (for new music, that's pretty early…) We loved her piece Quimbombó so much that we asked for a companion piece (Tembleque) and then recorded both for our debut album Atlas! Angélica continues to work with members of CME even now; just recently, she wrote a solo flute piece for Roberta with electronics and live video processing

(above!)
We've had a great time playing Angélica's music over the years and asked her to speak a little about her experience with us:
When I was asked by my good friends of Cadillac Moon Ensemble to write a piece for them, I knew immediately that I wanted to write something that was very rhythmically driven and different from everything else I've written before. The unique instrument combination of the ensemble also inspired me to get out of my comfort zone and not write something including electronics, so I set myself up for exploring the many textural and color possibilities within the ensemble. I rarely incorporate elements from the music I grew up with in Puerto Rico into my pieces, but this felt like the right piece for this at the right moment as I was very much missing being in the island. Somehow music helped me feel closer to those places, people and sounds that were far away from me at the time.

I wanted Quimbombó, and also its short companion dessert-like piece Tembleque, to evoke distant personal memories through a festive and celebratory perspective presenting and deconstructing different rhythms and melodic gestures from the Afro-Caribbean tradition that's so alive in Puerto Rico as well as the tradition of musica jíbara (Puerto Rican country music). For countless years, I've tried to silence these sounds that surrounded me and here I was trying to channel them into my own music. It was not an easy task to write something that was as far away from my comfort zone as possible yet strangely and profoundly close to my heart. I wanted to write something new, fresh and exciting that still sounded like it was coming from an honest place within myself. After throwing out many ideas, I finally found a new almost microscopic space that gradually opened up and proved to be comfortably spacious allowing for a sheltered playground for discovery. In an interesting turn of events, the last two minutes of Quimbombó turned out to reveal and later encapsulate a sound I've been exploring more and more in my recent works. CME is a great part of this discovery process and I feel that because I was working with an ensemble that's so refreshing and stimulating, I was then able to find these new hidden places that I now find myself visiting more often.